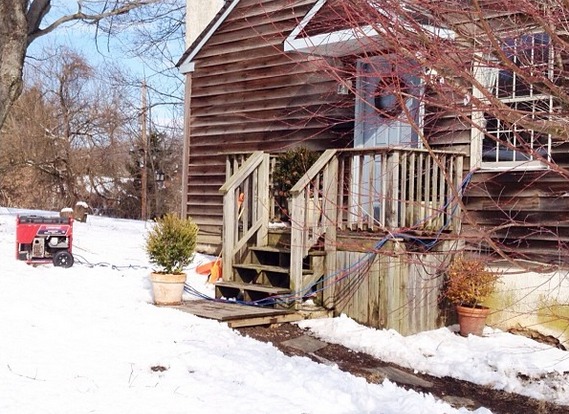 Last week due to a bad ice storm here in Chester County, Pennsylvania, 90 percent of the county's residents lost power. We were part of that 90 percent, not getting our power back till five days later.
Temperatures plummeted, both inside and out (our house got down to 44 degrees at one point), tree limbs and wires littered roads, and schools and businesses stayed dark.
For the first night, we stayed with family and then were able to borrow a generator from Claudia's dad and come back home. Even though we had lots of cords running throughout our house, didn't have hot water, and needed to cook on a camping stove, we were grateful to be back home and not freezing.
It all made for quite an adventure, one I wouldn't choose to repeat, I might add.
Reflecting on it all, I asked myself, "What did I learn?" Here are three of those things.
1. Perspective is key – It could always be worse. Just this morning someone was telling me how a tree fell on his brother's house causing major damage. Even though their power has been restored, the family has to stay somewhere else while the hole in their house gets fixed.
2. Leadership is key – Honestly, I did a pretty crappy job at leading my family well during the first couple of days without power. Rather than turning the situation into an exciting adventure, I got stressed, snappy, and irritable. It took me a couple of days, but I was able to be more the kind of husband and father I want to be in challenging situations.
3. Good habits are key – I normally do the same things each morning to get my day started off right. I like to take a hot shower and then spend time in my office reading, praying, and preparing for the day. With no hot water and my office closed off to keep the rest of the house a manageable warm, my morning routine was all thrown off. Not having those good habits in place negatively affected the whole rest of my day.
Those are three of the things I've learned from an eventful week. What about you? Have you ever lost power for an extended period of time? What did you do and how did it go? More importantly, how did you respond?
You can leave your comments in the comment section of the post. I'd love to know.
Photo by Claudia Good