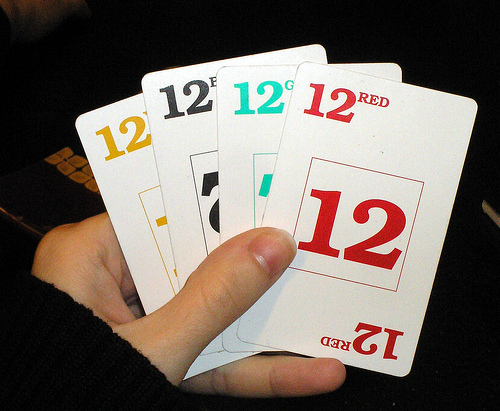 At times, I think we all wish that our circumstances were different. Perhaps we didn't get the house we wanted, or our business isn't doing as well as we hoped. It can be so easy to wish we had been dealt another hand in life.
Growing up, my family used to go to a cabin every year with my cousins. It was something I looked forward to all year. One of the things we did as we got older was play the card game Rook.
One of the interesting things was that the players with the best hands didn't always win. There were so many variables that went into it. How much you got the hand for (it's a bidding game), what order you played your cards, and what cards your partner had.
One of the things I learned was that it always worked better to work with what you had and to make the most of it. And, the players willing to take calculated risks always seemed to end winning.
It's the same in the game of life. It works best to work with what we've got and to make the most of it. And be willing to take some risks. Somehow things often seem to work out.
Considering the parallels between a card game and life – I identified 5 reasons we should play the hand we've been dealt in the game of life.
1. There's no win in comparison – There will always be someone who is more talented and more successful than we are. As long as we compare our situation to someone else's we'll never feel good about ourselves.
2. It's the best way to make the changes we want – Until we fully embrace where we are, we're going to have difficulty moving forward. If we're always living in denial of reality, the one we're fooling the most is ourselves. It's why there is so much consumer debt. People aren't being honest with themselves.
3. It will open up the door for more – More blessings won't come into our lives until we do a good job managing what we've been given. Think about the well-known parable of the talents in scripture. The person who did a good job with what they had been given was given more. The person who did poorly was taken from.
4. Everything happens for a reason – There is a purpose for everything. I don't think we always know what it is, especially in the moment, but in the grand scheme of things, there's a reason for everything.
5. It's the only life you have – You can't trade your life in. You can't become someone else. You may have a lot of reasons why you don't think you like your life, but you have to make the choice to take responsibility and start from where you are.
So in the game of life, do as Teddy Roosevelt advised, "Do what you can, with what you have, where you are." Play the hand you've been dealt.
Photo Credit: Vicious Bits via Compfight cc