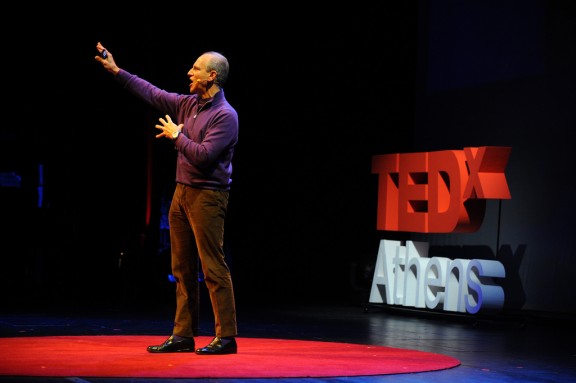 I love TED Talks. They're inspiring and informative 18 minute presentations from interesting people doing amazing things. Presentations are given on a wide range of topics including business, technology, psychology, design, science, and global issues.
Here are 8 must-see TED talks for any aspiring entrepreneur.
John Wooden: The difference between winning and succeeding
It's so easy to get impatient when starting a new creative project or business venture, you just want it to work already. In this video, John Wooden talks about how we can ultimately succeed if we don't focus on succeeding. Rather, focus on doing our very best every single day.
Phil Hansen: Embrace the shake
In this video, Phil Hansen points out that when we embrace our limitations (limited abilities, resources, time, etc) we'll not only get more, but also better ideas. A very important lesson for any budding entrepreneur.
Simon Sinek: How great leaders inspire action
Every aspiring entrepreneur needs a solid foundation for their venture. In this video Simon Sinek lays out the concept of starting with your "why." He says all really successful businesses understand and do this. It is a vital part of success.
Brené Brown: The power of vulnerability
Brené Brown's heartfelt talk explores vulnerability. She proves that people who are vulnerable feel more deserving of love and are simply happier people. Vulnerability is critical during the challenging times of starting your own project, when you need to be able to connect with and find encouragement from other people.
Seth Godin: How to get your ideas to spread
Don't be like everyone else, be remarkable! In a world of too many choices and too little time, our obvious choice is just to not pay attention to the ordinary stuff. Marketing guru Seth Godin explains that when it comes to getting our attention, ideas that are different and unusual are more successful than ones that are boring.
Malcolm Gladwell: Choice, happiness and spaghetti sauce
Author Malcolm Gladwell talks about understanding what people really want. In this video he explores the food industry's pursuit of the perfect spaghetti sauce. He helps us look at situations from a totally new angle, revealing opportunities in our current market.
Shawn Achor: The happy secret to better work
In this fast-moving, entertaining talk, psychologist Shawn Achor says the lens through which we view the world shapes our reality. He says, "If we can change the lens, not only can we change our happiness, but we can change every single educational and business outcome at the same time." This video is fascinating.
Julie Burstein: 4 lessons in creativity
Radio host and book author Julie Burstein shares four lessons on how to create in the face of challenge, self-doubt and loss. This is a vital skill for any entrepreneur. Julie says we get more creative when we pay attention to the world around us, learn from our struggles, and push against the limits of what we can do.
Photo Credit: TEDx Athens via Compfight cc