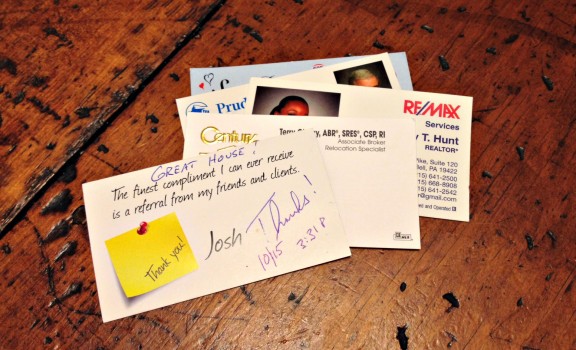 A little compliment can make a big impression on someone. It doesn't take much, just a kind word, an observation, a word of encouragement. Those little things will brighten someone's day and make them remember you for a longtime afterward.
Claudia and I are in the process of selling our house and we've had quite a few realtors come through and show the house to their clients.
Normally the way it works is we get the house all straightened up by doing things like putting all the toys away, clearing the extra appliances off the kitchen counter, and turning all the lights on to make it show well. Then, we leave so the prospective buyers can take their time looking at the house.
After the showing, many times we'll find the realtor will have left their business card on the table just inside our front door. Of the many different realtors that came through to show our house, one of them clearly sticks out in my mind, even though I never met him.
When he left his business card on the table, he wrote on the back of it, "Great house!" That small compliment made us feel like he appreciated all the effort we put into getting the house ready for them. (We'll often spend an hour plus getting the house ready!)
It also made him stick out above all the realtors. I even remember his name now; it's Josh.
You can see how this is great from a personal perspective – we can encourage, show appreciation, and brighten someone's day – but also from a business perspective. If we were looking for another realtor, I'd remember Josh and want to meet with him.
Are there ways you could use complimenting others in your life or business? It probably took Josh all of 5 seconds to write, "Great house!" on his business card. Why not leave a short note or shoot a quick text or email to someone when you think of it. Say, "Hey, you did a great job today." or, "I really like what you've done with that project you're working on."
It won't take more than 5 seconds, but will make a big impression.