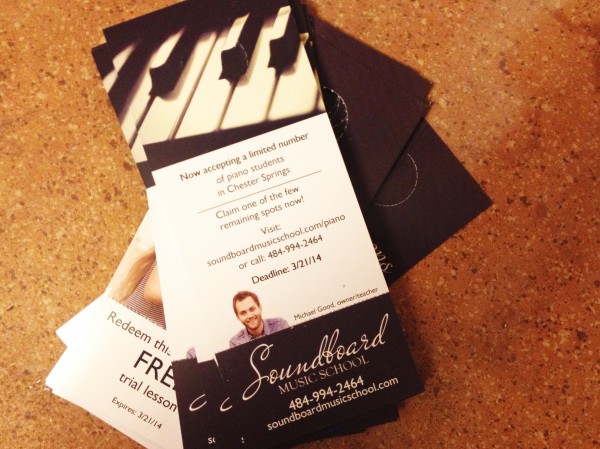 For the past two years with our music school, we've gotten the majority of our new students through free workshops. However, the workshops haven't been as effective any more.
Six months ago, I told Claudia about my idea of distributing door hangers as a new way of advertising. I wanted to target specific neighborhoods where the demographic matched our target market.
Claudia said she thought it was a great idea and it was worth a try.
Well, I sat on it for a while because I got busy with other things and, to be honest, wasn't sure if it would work.
Then last week I finally moved forward with it.  The response has been great! I spent about two hours hanging about 250 door hangers and, so far, we got two new students and three more strong leads.
Pretty good considering the small investment on our part and the fact that the average student stays with us close to two years!
This whole experience reminded me how very beneficial it is to try new things. Rather than just sticking with the same thing over and over, many times it's helpful to try a new approach.
Sure, it won't always work… But it might.
Do you have an idea that's been brewing in the back of your mind for a while? If so, how about giving it a try?
And don't wait six months like I did. Sheesh! Get to it within the next week. I know I wish I did.