This is a guest post written by Kent Julian. Kent is the founder and president of Live It Forward LLC, a personal and professional development company that helps people make the move to the life and work they love. He is also a highly sought after speaker to students and educators all across the country. In addition, he coaches individuals who are interested in starting their own speaking business. Connect with him on his blog or follow him on Twitter.
_______________________________________________________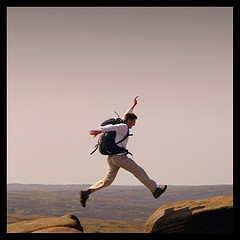 Unless you try to do something beyond what you have already mastered, you will never grow.
– Ralph Waldo Emerson –
Better to do something imperfectly than to do nothing flawlessly.
– Robert H. Schuller –
The longer I work with life and career clients, the more I realize that certain "sticking points" are common with many people. Think of them as "hurdles" that are difficult to clear.
One such hurdle is the tendency to spend more time meditating on what to do than actually getting busy and doing something.
Why does this happen?
You name it…
Perfectionism
Fear
Busyness
Not knowing where to start
Whatever the cause, the result is always the same:
Lack of movement
Halt-ed-ness
Stuck-ness
Now, don't miss what I'm about to write…
First, meditating (i.e. thinking, planning, and goal setting) is essential. The likelihood of anyone finding significance or success without meditating on what matters most is scant. The fact is, I spend a significant amount of time thinking deeply about purpose and direction, intentionally planning how to best invest my life, and setting goals to achieve what matters most to me.
Second, I struggle with the same things you do. Remember the list…
Perfectionism
Fear
Busyness
Not knowing where to start
As I write this, I am looking in "my mirror" and focusing on "my issues" as much, if not more so, than the issues my life and career clients' face.
Yet, the bottom line for all of us is this… meditating on what to do and why to do it is important, but there comes a time when we must stop meditating and start moving.
Why?
Because so much more is accomplished through movement than meditation!
What this means, basically, is there is a time to say, "Good enough is good enough…let's start moving!"
So…in the spirit of Ecclesiastes….
There is a time think…
There is a time to plan…
There is a time to strategize…
There is a time to prepare…
There is a time set goals…
BUT…
There is also a time to get off our rears and do something!
Why not make that time today? Do something today you've been thinking about doing and believe is significant. I guarantee you'll be energized and feel a sense of meaning in your life!